.
This set has both the Leather / Classic Beige and A6 Planner book.
*arrives in a beautiful Hobonichi cardboard box

Leather / Classic Beige
Size
A6 size
W: 125 x H: 165 x T: 40 mm / W: 4.9" x H: 6.5" x T: 1.6"
*Specifications may vary slightly
Weight Approx.
135 g
Main material
Cow leather
The gentle beige color of this cover is reminiscent of royal milk tea, with the subtle, detailed grain of the cow leather giving it an elegant look. The trifold layout wraps the cover comfortably around the book.
The snap buttons close the cover with a secure click that keeps it closed inside of a bag but still easy to open. The pen hook inside the cover is designed to hold a pen by its clip, and the pen fills out the cover nicely when closed.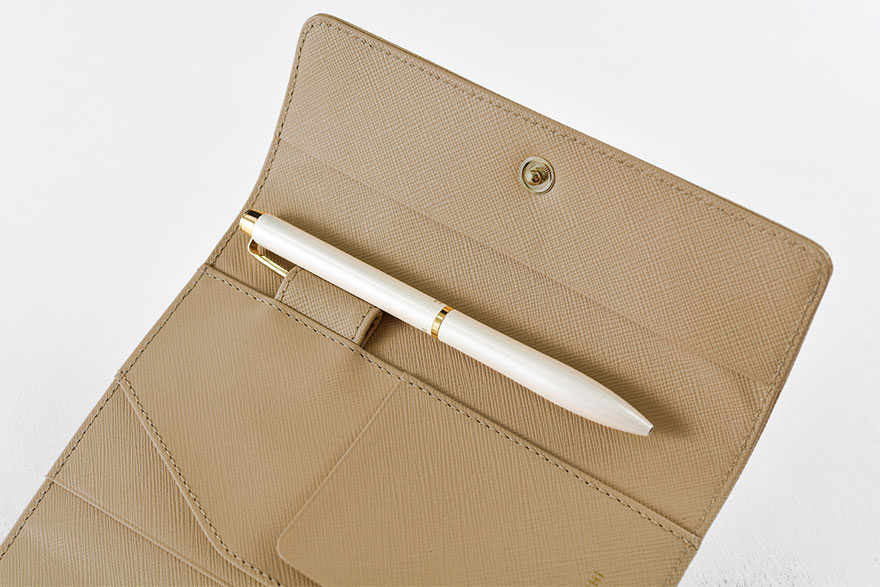 Classic Beige is truly a classic, thanks to its simple design and timeless color as well as the superior texture of natural leather. The cover can also act as a clutch bag, and will spruce up the look of anyone who carries it.
You'll find every day relaxing and fine with Classic Beige by your side.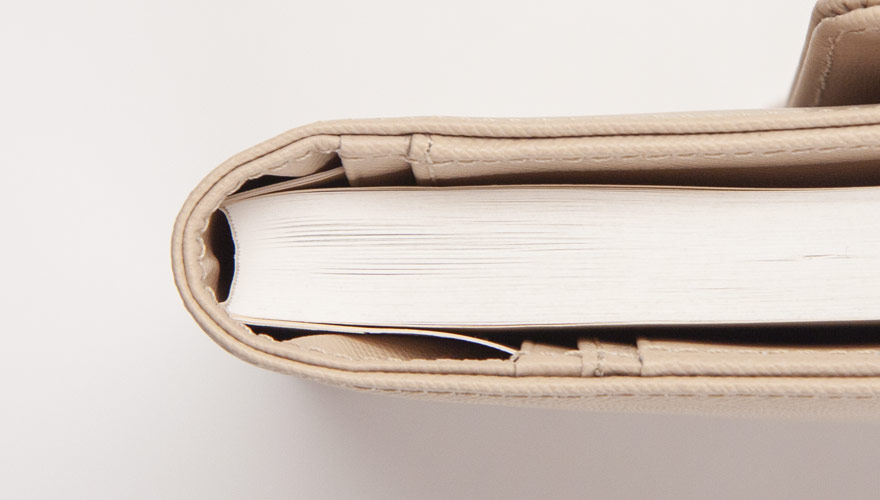 This product uses stiff leather. While there are variations between items, the material tends to sag easily inside the cover. Therefore, when inserting the techo book into the cover, it's easier than usual to damage the book in the process. When inserting your book, please refer to the
cover basics
info page for instructions and insert the book a little at a time.
A6 Planner Book in English

Size
A6 size = W: 105 x H: 148 x T: 14 mm / W: 4.1" x H: 5.9" x T: 0.6"
Weight Approx.
200 g
Language
English
Pages
448 pages
Binding
Stitch-binding
Paper Type
Thin, light Tomoe River paper resistant to bleeding and designed for planners.
Graph Paper Size 4 mm
Yearly Calendar 2020, 2021
Yearly Index Dec. 2019 - Mar. 2021 (8 pages)
Monthly Calendar Dec. 2019 - Mar. 2021 (32 pages)
Daily Pages Jan. 1 - Dec. 31, 2020 (378 pages)
*A blank two-page spread is featured at the very beginning of the book to provide a free area when starting out the book.
*A page is included at the beginning of each month to help in planning ahead.
*Every two-page daily page spread includes one daily quote.
Daily Quotes One quote per two-page spread (English)
Weekly Pages Not included
Memo Pages 15 pages
Informational Pages Important Contacts / International Size Charts / Conversion Table / My 100 / Local Festivals in Japan / The Japanese Bento / Personal Notes
Listed Information Day of the year / Week of the year (listed on monthly calendars and daily pages) / Moon phase (daily pages include every phase, monthly calendars only include full and new moon)


Select shop and brand Arts&Science owner Sonya Park directed the creation of this English-language Hobonichi Techo book, which has been refined and simplified to make it easy to use in all countries and languages. It still contains all the beloved features of the Original Japanese edition, such as the compact A6 size, one page devoted to each day, daily quotes, lay-flat binding, and more.
The graph paper in the English version is slightly enlarged to 4 mm to allow users to write comfortably in any language. Timelines are simplified to a single 12 to denote noon so users can completely customize it to their own schedule (or ignore it completely), and each day is also labeled with the number of the consecutive week that year, from 1 to 52.
The back of the book includes informational and useful pages such as My 100, Japanese Festivals, and Japanese Bentos.
The book has a chic, black textured cover subtly engraved with the Japanese characters for "techo" alongside the Arts&Science logo.