.
Hobonichi Weeks Bow & Tie : Tokyo Tower 2020
hardcover
Size
W: 94 x H: 188 x T: 10 mm / W: 3.7" x H: 7.4" x T: 0.4"
*Specifications may vary slightly
Weight Approx.
135 g
Main material
Polyester, paper
The Bow & Tie series is covered with the same textured, shiny fabric used in neckties. The gloss and soft touch of the material makes this series stand out from other Weeks books.
The cover has been constructed as a light, hardcover book with some give to it so it still bends.
This cover lines up small Tokyo Tower icons across a dark navy background. This tower has long been a symbol of the city of Tokyo, and here it has been reimagined into a woven design.
The images have been painstakingly designed to accurately portray Tokyo Tower, down to the seven alternating stripes above the observation deck and the use of colors true to the actual tower. You can also find some towers lit up at night among the rest of the daytime towers. The light blue and white night-version of Tokyo Tower has a cute little moon by its side.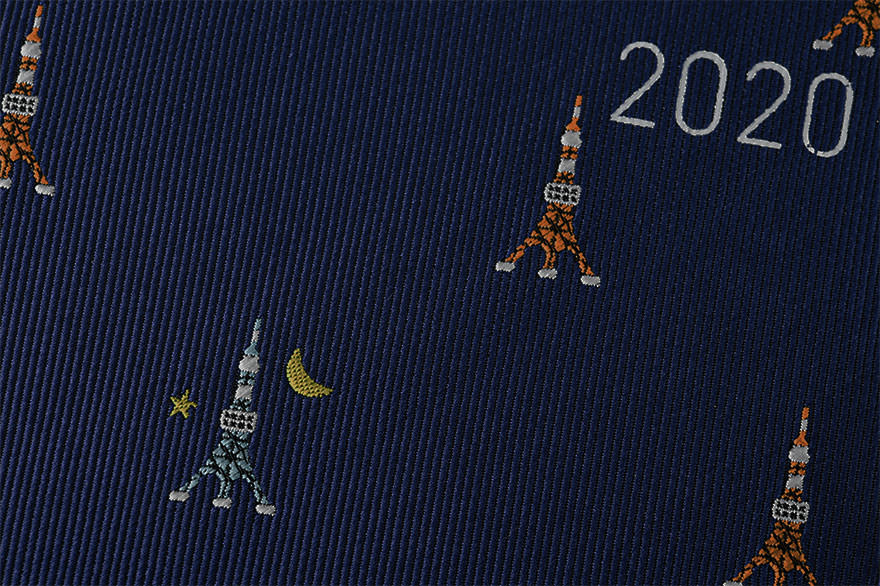 Language
Japanese (can easily be used even if you don't know any Japanese)
Pages
240 pages
Binding
Stitch-binding
Paper Type
Thin, light Tomoe River paper resistant to bleeding and designed for planners.
Graph Paper Size
3.55 mm
Yearly Calendar
2019, 2020, 2021
Yearly Index
Jan. - Dec. 2020 (2 pages)
Monthly Calendar
Dec. 2019 - Mar. 2021 (32 pages)
Weekly Quotes
One per week (Japanese)
Weekly Calendar
Nov. 25, 2019 - Jan. 3, 2021 (116 pages)
*All weekly pages include quotes.
Graph Paper
69 pages
Informational Pages
Shorthand Note-Taking / Graph Paper / Using Common Items to Measure Size / Solar Terms / My 100 / Enjoy Your Techo with Letter Art / World History in the Scale of a Single Year / Emergency Preparedness / Age Table / Conversion Chart / Useful Links / Contact List / Personal Notes
Listed Information
Week of the year / Rokuyo (traditional Japanese calendar) / Solar terms / Japanese holidays / Moon phase (weekly pages include every phase, monthly calendars only include full and new moon)
This product can be delivered as a letter.