.
Hobonichi Weeks Tomitaro Makino / Nojigiku 2020
hardcover
Size
W: 94 x H: 188 x T: 10 mm / W: 3.7" x H: 7.4" x T: 0.4"
*Specifications may vary slightly
Weight Approx.
135 g
Main material
Synthentic canvas, paper
This Weeks book features an intricately drawn illustration of blossoming nojigiku flowers, otherwise known as "Chrysanthemum japonense." The image was drawn in 1887 by botanist Tomitaro Makino.
This autumn flower, part of the Chrysanthemum family, has a simple beauty. It's a perennial herb unique to Japan that mainly grows on rocky shores.
Makino discovered the flower on a natural path through fields. He named the flower Nojigiku, which means "Chrysanthemum along a wild path." The flower is a symbol of truth and of a person you cannot forget.
The diagram below is labeled "Nov. 10, 1887 Kawaguchi" to denote the day Makino drew the illustration and the place he obtained the flower, which is present-day Kawaguchi in Niyodagawa, Kochi Prefecture.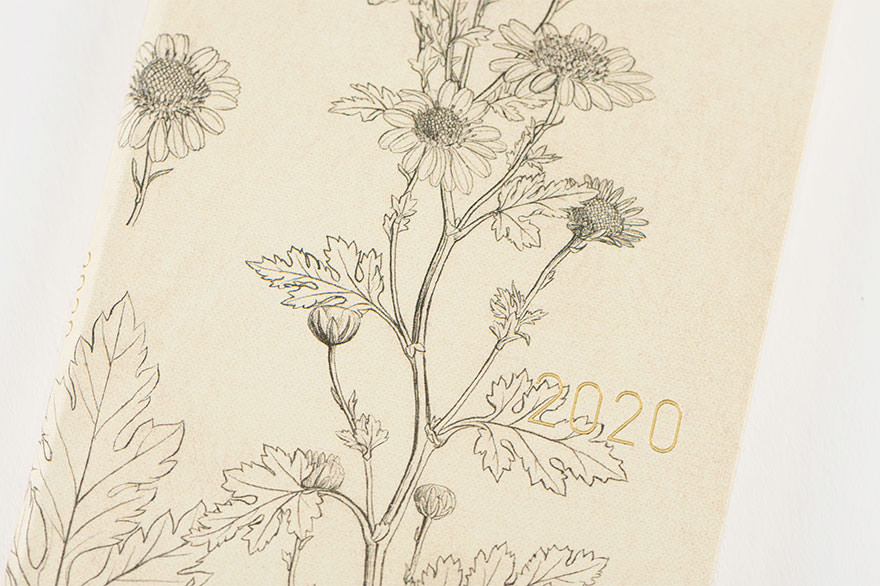 The amazing, true-to-life illustration draws out the features of the Nojigiku, right down to the buds and the details of the leaf shape, as they were observed behind a loupe and a magnifying glass about 130 years ago.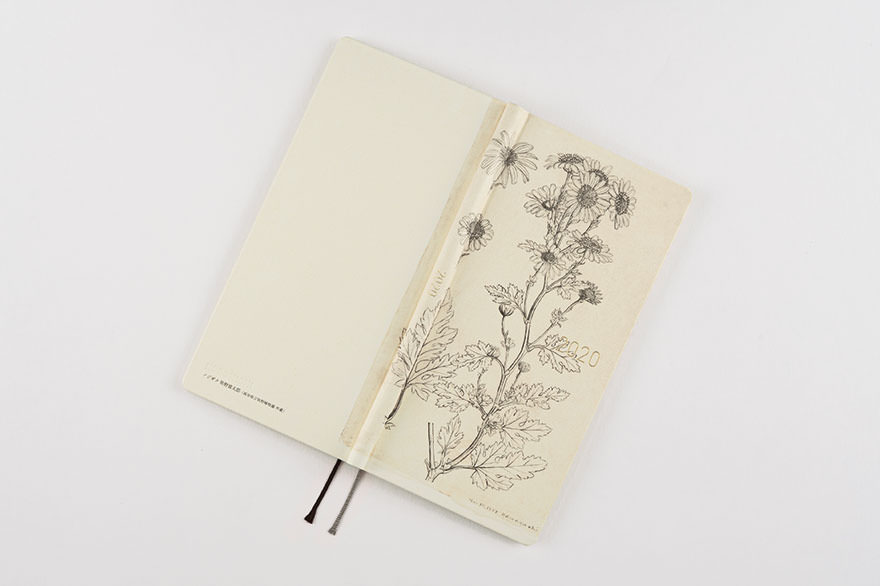 The rough fabric of the book cover is modeled after canvas, and the vintage botanical illustration makes this book a joy to have in your daily life.
The cover has been constructed as a light hardcover book with some give to it so it still bends.
Language
Japanese (can easily be used even if you don't know any Japanese)
Pages
240 pages
Binding
Stitch-binding
Paper Type
Thin, light Tomoe River paper resistant to bleeding and designed for planners.
Graph Paper Size
3.55 mm
Yearly Calendar
2019, 2020, 2021
Yearly Index
Jan. - Dec. 2020 (2 pages)
Monthly Calendar
Dec. 2019 - Mar. 2021 (32 pages)
Weekly Quotes
One per week (Japanese)
Weekly Calendar
Nov. 25, 2019 - Jan. 3, 2021 (116 pages)
*All weekly pages include quotes.
Graph Paper
69 pages
Informational Pages
Shorthand Note-Taking / Graph Paper / Using Common Items to Measure Size / Solar Terms / My 100 / Enjoy Your Techo with Letter Art / World History in the Scale of a Single Year / Emergency Preparedness / Age Table / Conversion Chart / Useful Links / Contact List / Personal Notes
Listed Information
Week of the year / Rokuyo (traditional Japanese calendar) / Solar terms / Japanese holidays / Moon phase (weekly pages include every phase, monthly calendars only include full and new moon)
This product can be delivered as a letter.