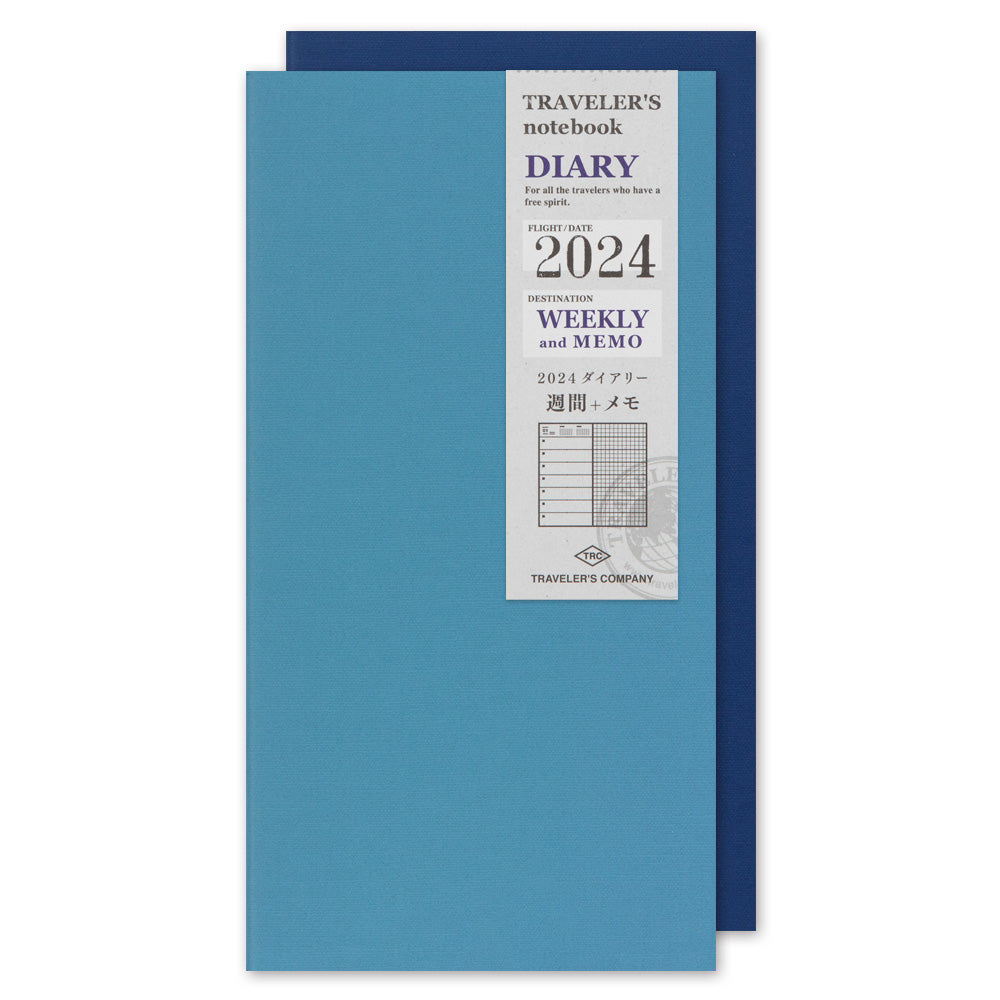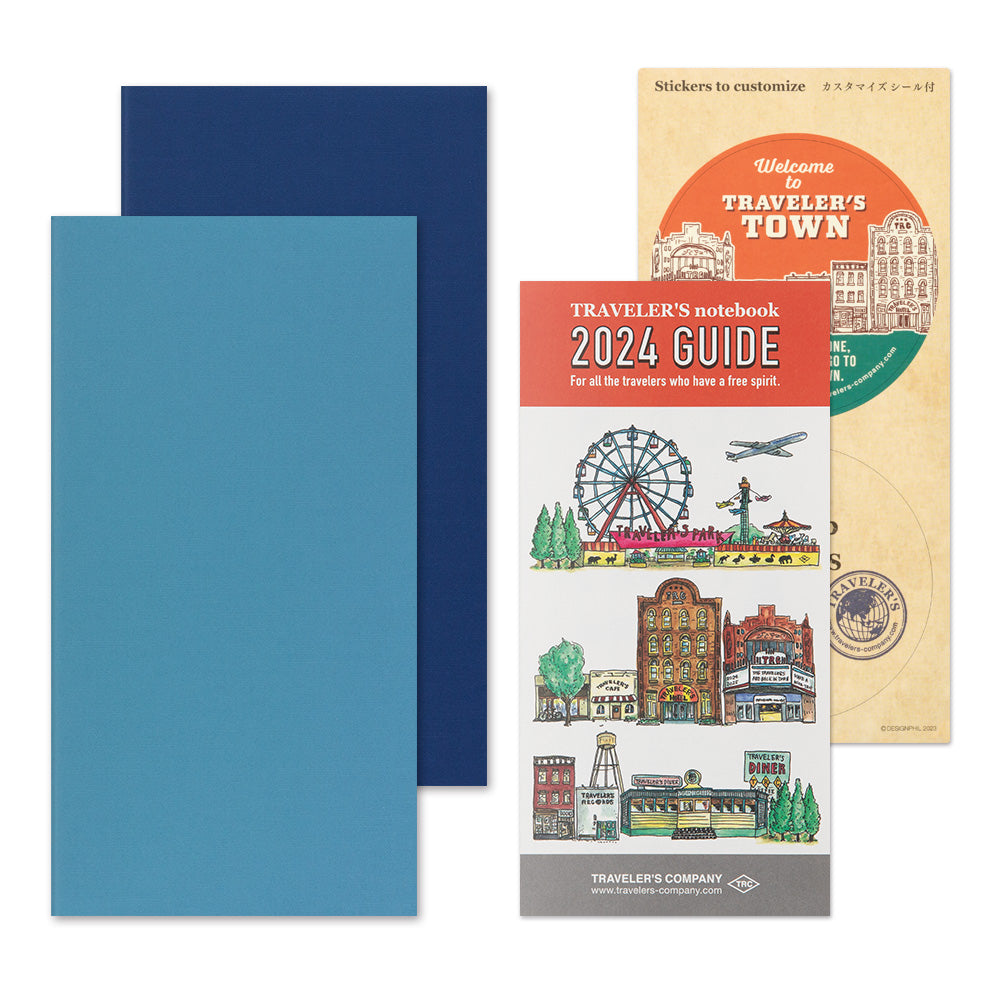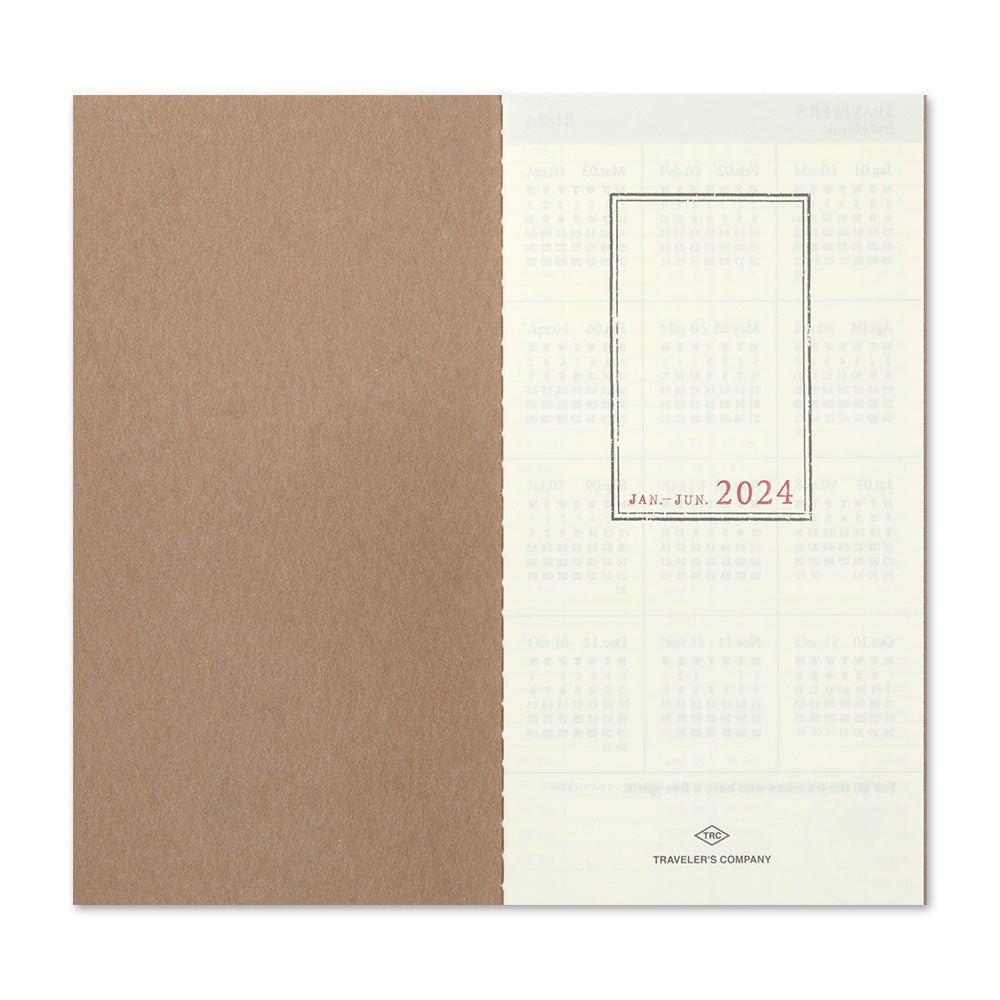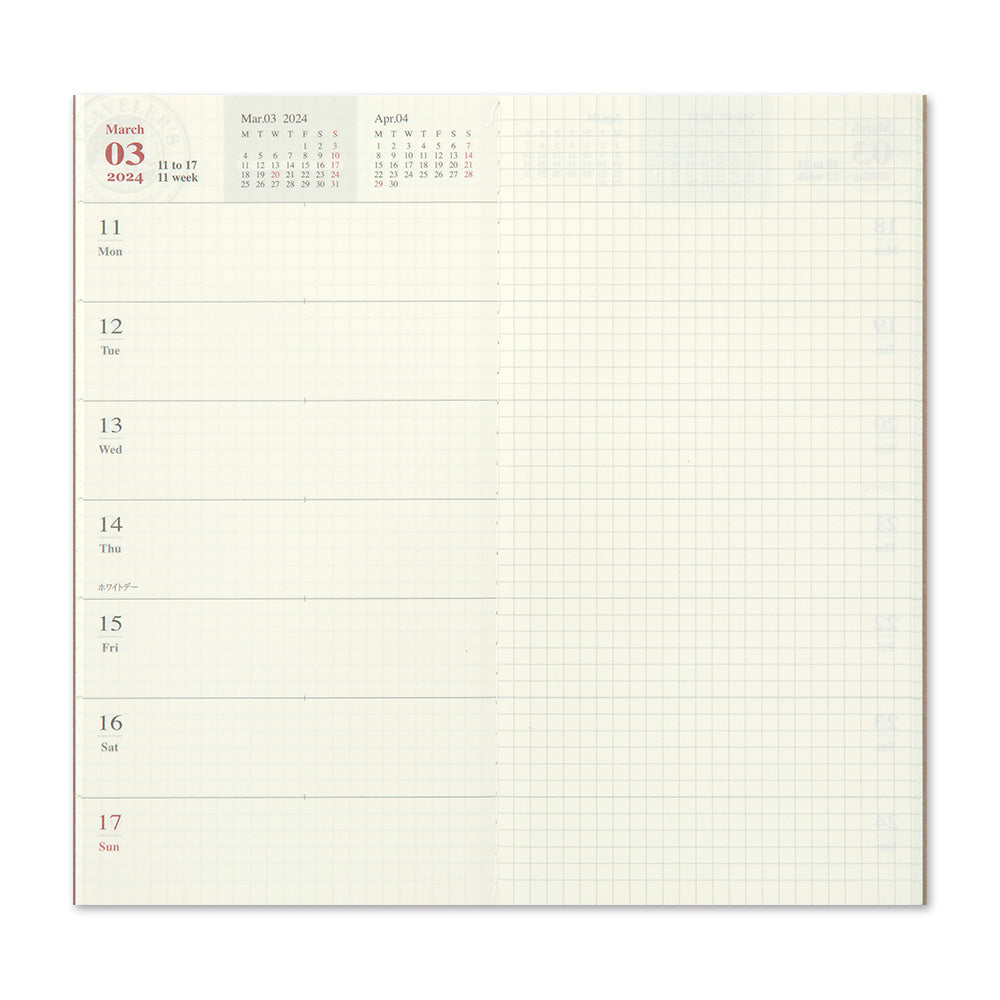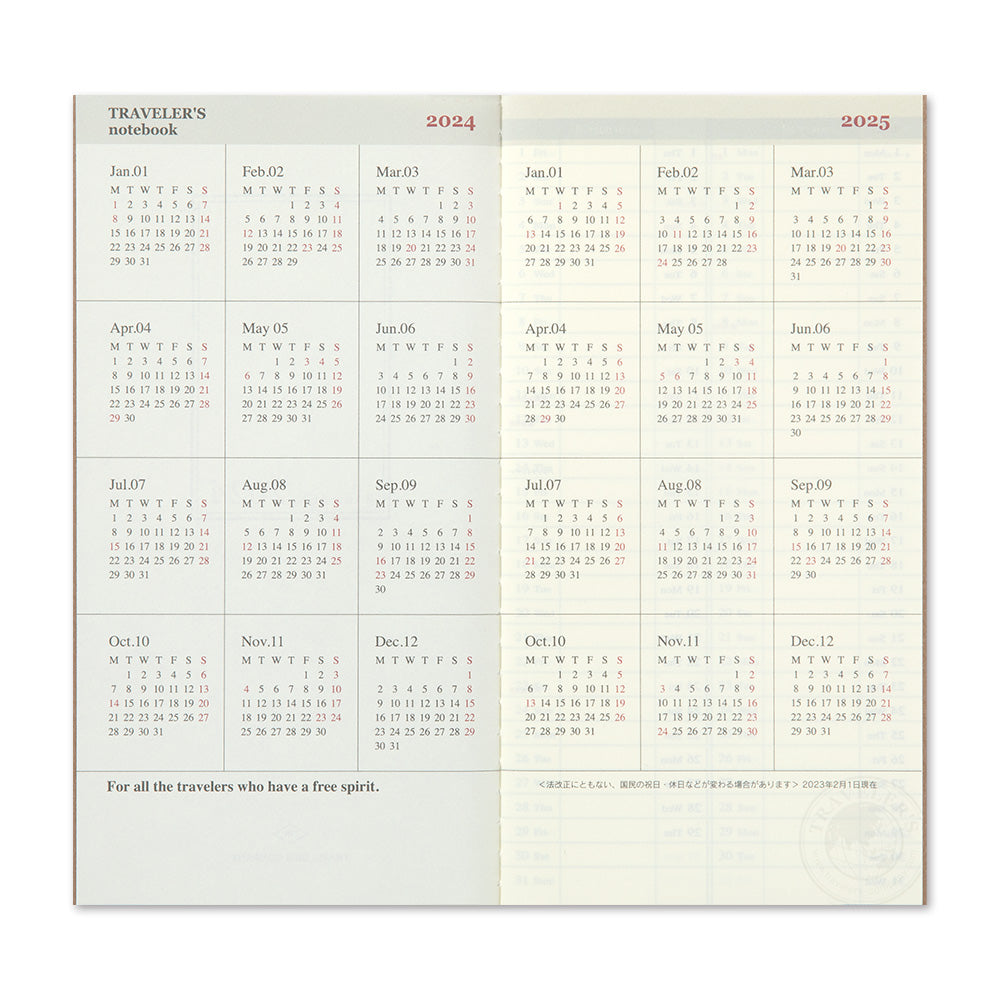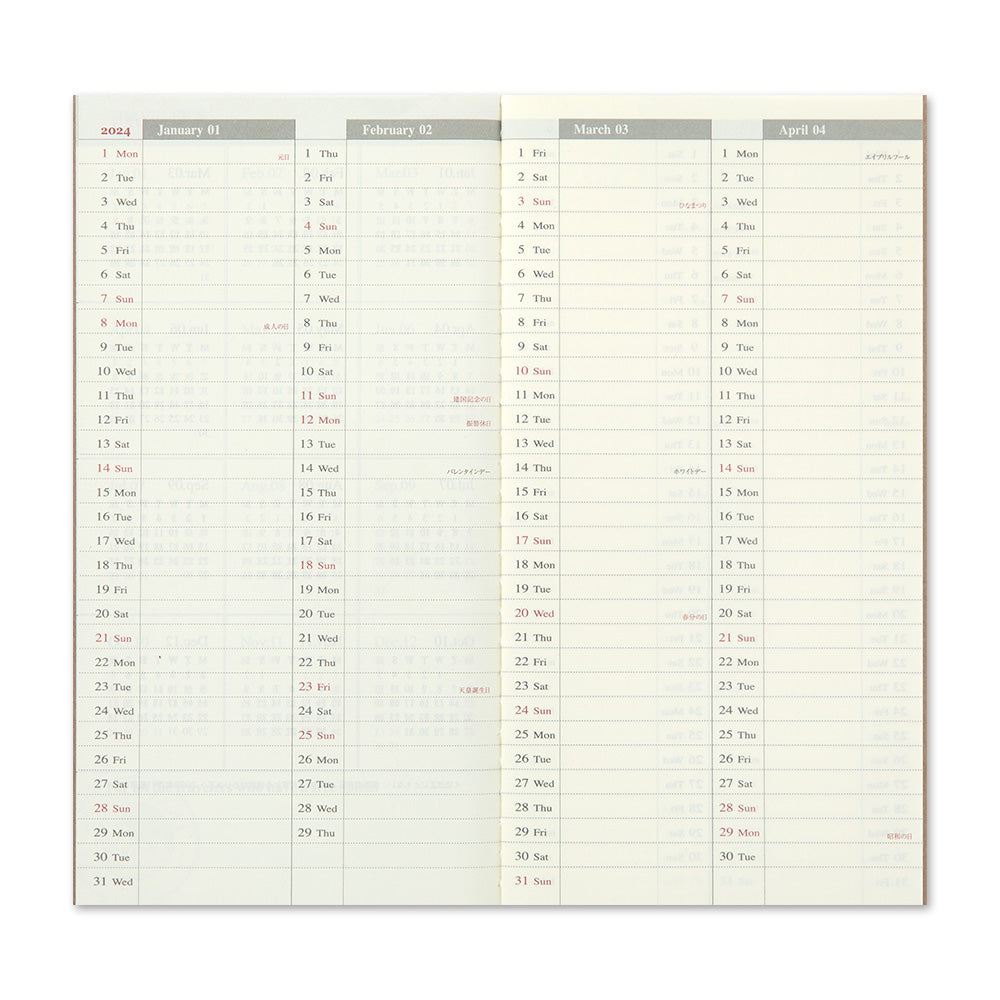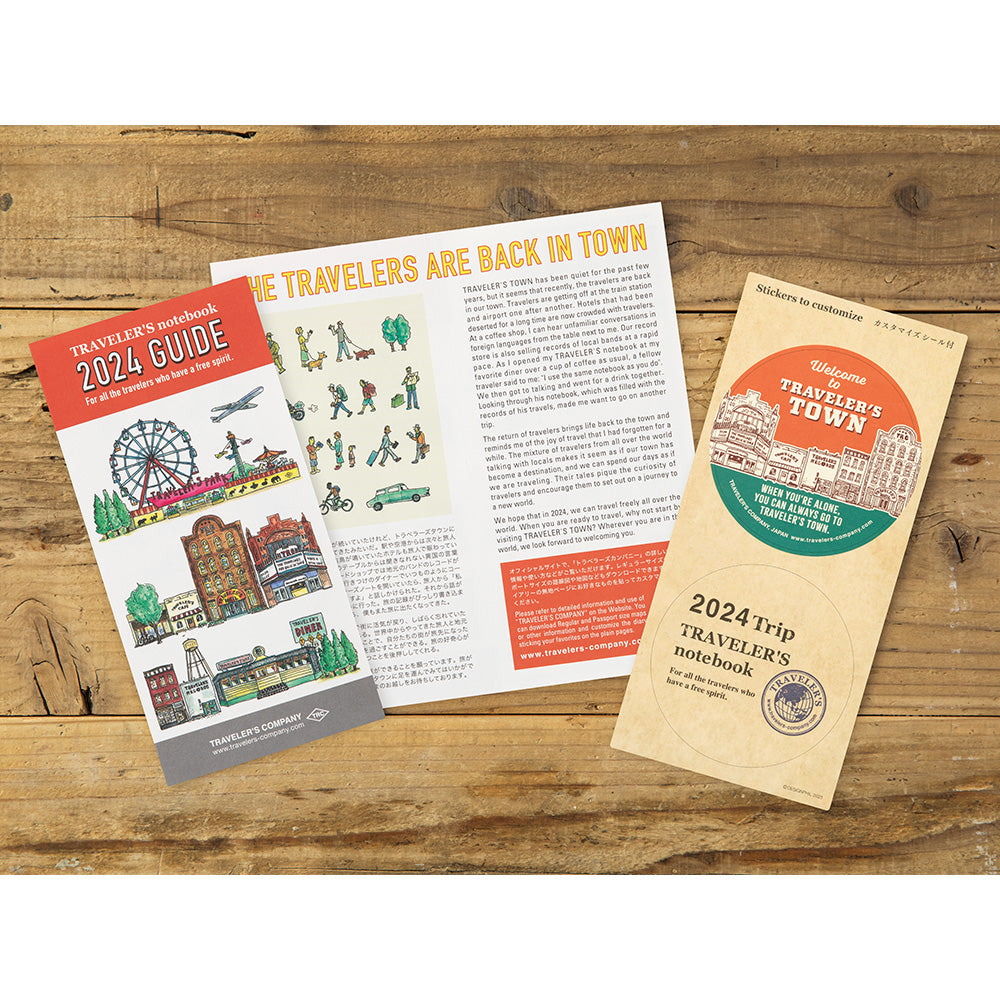 Traveler's Company Traveler's Notebook 2024 Weekly + Memo Diary Regular Size
In stock
Please note!
This is a pre-order item.
Shipping approximately on week
40.
Traveler's Company 2024 Diary Weekly+Memo for TRAVELER'S notebook.

Set of weekly inserts with memo pages

On the left side is the weekly view for your scheduled plans,
on the right side you have memo space with grids for all your random notes

Set has 2 inserts, one covers six months,
first insert is for first half of 2024 and second insert is for second half

This insert uses Midori MD Paper, so it is very pleasant to write into

There is a Guide and a customizing sticker included.

Weekly schedule (January 2024- June 2024,  July 2024- December 2024), Grid, Calendar, Monthly schedule,
68 pages x 2 notebooks, MD Paper (Sewn Bound), Bonus item:Diary Guide with Sticker
H210 x W110 x D8mm
MADE IN JAPAN
TRC 2024 diaries feature a design themed around a TRAVELER'S TOWN that warmly welcomes travelers.
 Travelers come and go all over the world, and the town has become a bustling place. Such an appearance creates a liveliness in the town and arouses the desire to travel. If there is a TRAVELER'S TOWN somewhere in the world and you travel there, you will feel uplifted and positive. We want people to spend the year 2024 feeling like they are traveling through a TRAVELER'S TOWN. With this in mind, we have chosen this year's TRAVELER'S TOWN theme.
TRAVELER'S TOWN has been quiet for the past few years, but it seems that recently, the travelers are back in our town. Travelers are getting off at the train station and airport one after another. Hotels that had been deserted for a long time are now Crowded with travelers. At a coffee shop, I can hear unfamiliar conversations in foreign languages ​​from the table next to me. Our record store is also selling records of local bands at a rapid pace. As I opened my TRAVELER'S notebook at my favorite diner over a cup of coffee as usual, a fellow traveler said to me: "I use the same notebook as you do". travels, made me want to go on another trip.
The return of travelers brings life back to the town and reminds me of the joy of travel that I had forgotten for a while. and we can spend our days as if we are traveling. Their tales pique the curiosity of travelers and encourage them to set out on a journey to a new world. We hope that in 2024, we can
travel freely all over the world. are ready to travel, why not start by visiting TRAVELER'S TOWN? Wherever you are in the world, we look forward to welcoming you.
Packed with love
Fast international shipping
Secure Payments